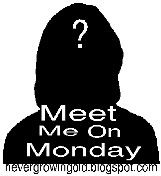 Monday, Monday....may as well make the most of it....
1. How many TV's do you have in your home?
3 - one in the den, one in the kitchen, and one in L and MJ's room
2. What is on your bedside table (nightstand)?
a lamp, an antiquated clock-radio, several books, and, when I'm sleeping, my glasses

3. How many pair of shoes do you own?
more than 20 and most of them are either Birkenstocks or Crocs
4. Can you change a flat tire?
I think I could figure it out, but luckily I've never had to.
5. Do you prefer sweet treats or salty treats?
Sweet....but I'm trying really hard to have willpower and resist temptations...