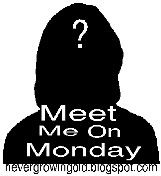 Questions:

1. What is your favorite way to eat chicken? Since chicken is the only meat I eat, I like it prepared any way! I guess my most fav would be BBQ'ed on a grill though.

2. Have you decorated for Christmas yet? Nope, not at all. I guess we'll start within the next week....

3. What is your favorite article of clothing? My favorite articles of clothing are my husband's soft, well-worn white t-shirts that I wear underneath other shirts and sweaters of mine...

4. Do you pay your bills online or write checks the old way? I pay either online, or they are drafted straight out of my checking account.
5. Do you make Christmas cookies? I'm not much of a cookie baker, but I do like to make various old-timey candies like my mama used to make....divinity, pralines, seafoam, mints, fudge, etc...... :)