I'm linking up with Java at
Never Growing Old
for this
week's edition of Meet Me On Monday...
Join in the fun, if you please.....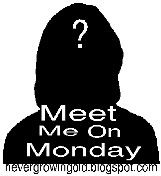 Questions:

1. Have you ever been on a cruise? No, I've never been on a cruise. I've never had the opportunity but don't think I'd like it anyway...

2. What is your favorite way to eat eggs? I like my eggs scrambled, very well done!
3. What is your favorite reading material? I like about all kinds of reading materials, from magazines, to supsensful novels, to adolescent fiction, to picture books, etc...
4. Name all the pets that you have ever had? Impossible to name them all, but I'll try....
Pete, Sam, PD, Sammy, Martha, Martie, Jim, Kane, Markie, Sparky, Bill, Beau, Rudy, Pal, Spanky, Copper, Lemon, Ricky Bobby, Mike - all dogs