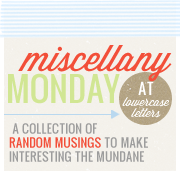 I know I'm running late this week, but I still wanted to share a
few thoughts on one of my favorite memes
It's the last week of March! I remember that March definitely came "in like a lion," so I'm hoping it will "go out like a lamb" as the saying goes! My fingers are crossed....
I'm still working with my medical homebound student. I go see him on Mondays and Wednesdays. Hopefully he'll be able to go back to school soon as review for state-wide testing is starting.
We're studying neighborhoods and signs this week. I've got lots of creative ideas to work into my lesson plans. We are going to have so much fun with these two topics!
I've finished one of the Relay for Life lap quilts and just have to tie the other one before it is complete. I'm planning to make one more for the school's team to raffle off as a fundraiser. The coach who's the team leader is "Fundraising Trough the Alphabet," so this is, of course, an effort for the letter Q!!
MJ and Josh are finally and officially a couple!
I'm happy, and I'm happy that they are happy!! :))