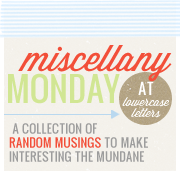 Once again it is time to link up with
Carissa
for
The weather here is definitely bi-polar! One minute it's cool and cloudy, and the next it is hot and sunshiny. Gotta love (or at least tolerate) the crazily changing SC climate..
We had a wonderfully quiet weekend at our house. Chuck was out-of-town teaching for the SCFA and MJ and Charles were on the golf course. Lawren and I spent time together shopping, talking, and having a pedicure....my first! It was really nice too!!
I forgot to mention the Friday night softball news in my other posts over the weekend... Marlboro played Lakewood at home, and both the JV and varsity teams won. MJ was the catcher in her game, and also hit an in-the-park grand slam! Lawren played right field, and went 3 for 3 batting. Her average continues to increase and will hopefully surpass some of the other players' so she will receive the recognition she deserves.
Two games are on the schedule for this week...Tuesday, MCHS vs. Crestwood, and Friday, MCHS @ Hartsville....a super, super big game for both teams!!
I've about finished the three Relay for Life lap quilts that I've been working on. The MCHS team is going to sell raffle tickets for them for $1.
I hope everyone has a magnificent Monday!