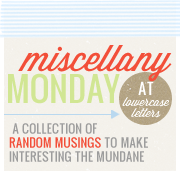 Once again it is time to link up with
Carissa
for
MISCELLANY MONDAY...
I know it is Tuesday, but I am just getting around to getting my thoughts together about the weekend and yesterday.....please bear with me....thanx!
Nothing could be sweeter than handing Hartsville their second loss to the Bulldogs! Marlboro led the entire match-up and crushed the Red Foxes with a final of 4 - 1. The Hartsville parents and fans were so sure that their girls were thirsty for revenge and they had this game....but they were disappointed...
GO LADY DAWGS!!
Saturday morning started very early! We got up at 5 AM to go to Columbia for the state FFA tractor driving competition. Charles, along with four others, drove for the Marlboro team. Charles had a slip-up and didn't follow the correct course and he was disqualified. I guess he was too excited or nervous....but that's OK. We had fun!
After the competition, we drove over to Columbia College to see Deanna play softball. The stormy weather cleared up long enough for the Koalas to play, but sadly, we didn't get to see Dee play. The coach didn't put her in until the last inning of the second game.
Sunday was a relaxing day. We went to Sunday school and church, had lunch, and then napped all afternoon. The girls had sb practice and Charles worked at the CCC, but Chuck and I obviously needed rest....
Monday was a regular school day for all five of us. There were a lot of teachers absent from school so Mrs. Suggs had to cover a class and I was alone in our class. I sure miss her when she's not in class. After school, Chuck, Josh, and I left for Camden. The varsity girls played against the Camden Bulldogs and were victorious with a final of 21 to 0....it wasn't even a game!
Today is beautiful! The weather is warm and sunny and promises to be a perfect spring day. Charles has his last home golf match this afternoon in Clio. Hopefully I'll be able to make at least part of it after the SIC meeting here at MCHS.
I'm sure that my ramblings are not typical of other bloggers Miscellany Monday posts, but my life is consumed with my husband, children, church, and school. I just write about what I live, what I know, and what I love.
Happy Monday and Tuesday Y'all!!