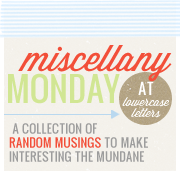 Once again it is time to link up with
Carissa
for
Our family had a wonderful weekend....very quiet and low-key. L and MJ went on a Spanish field trip on Saturday and Charles worked at CCC, so Chuck and I just hung out together and talked....with no interuptions!!
Sunday, we went to SS and church, and then Chuck and I went to Florence for lunch and to buy shoes for him. We also walked around in the bookstore and then bought necessities at Wal-Mart.
Sunday supper was Pizza Hut Veggie Lovers Pizza....YUM!!
Chuck and Charles have their monthly BFD meeting tonight, so that means no cooking for me! The girls and I can just pick up something after their softball practice....or not! We may just eat leftovers or noodles!