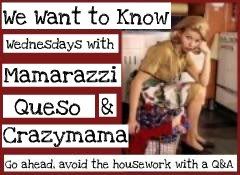 1.} What must you do before you go to bed at night?

I read for a little while, set my clock, say my prayers, and then wait for sleep to come....
2.} What is one thing you must snack on at the theater

?

I love popcorn and a diet Coke....
3.} Before going on vacation what must you do?

Make reservations online through our vacation club! Before actually leaving home, I work on laundry and we pack at the last minute, make plans for someone to feed the dogs and check the mail, lock the doors, and drive away for a fun, relaxing vacation....
4.} What is one thing you must do every day?
Brush my teeth....at least twice!
5.} Is there something you do that must be done in a particular order?

When I fold clothes, everything goes in a particular place on the den floor where I sit....that way everyone knows where their stack is and they can easily take their clothes to their rooms....