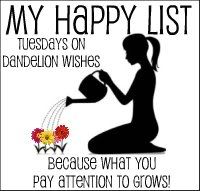 I'm happy...
..that I had time to make a peanut butter and honey sandwich for my breakfast.
..because I verified my students' grades on the computer and the lowest grades were in the mid-80's! Way to go y'all! I'm so proud of you!!
..because my house was full of teenagers last night, carving pumpkins, talking, and having fun!
..that our principal told the faculty that we can wear jeans to school on Friday because it is the last Friday in the month AND we can wear them on Monday because we are having College Application Day for seniors! I love soft, cotton, comfy jeans!!
..because today is probably the last day of varsity volleyball season. We travel to Chapin today to play a #1 ranked team, and we are ranked only 4th in our region. Anyway, good luck girls! Go Bulldogs!!
..everyday I am reminded to set my priorities and let irrelevant things go.
..because I am a child of God....no perfect, but forgiven!