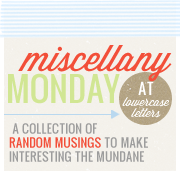 I'm linking up once again with
Carissa
for this weeks edition of
Miscellany Monday...
All in all, we had a good weekend. It was a busy one, and a FUN one!
I just love it when things work out for everyone involved...
Friday night, the Bulldogs played Hartsville. Lawren and a couple of her friends went and got there and back safely. The Bulldogs beat the Foxes by 2 points, 21 to 19, and with that win, became the Region 6, AAA champs.
Early Saturday morning, Chuck, the girls and I went over to Florence for a tour of FDTC and then a softball showcase workout with the team. We had a very nice visit,the school is very nice and has a lot to offer, but I think L and MJ would be better off at a college that has dorms on campus and is maybe a little farther away from home.
Tragedy struck the family of a dear friend. Walt K. was found dead in his home this morning by his mother. His wife, Michelle, was my first good friend when I moved to MEMS to work back in 2000. Walt was such a young man, and his death is difficult to accept. He leaves behind two young sons, his wife, and loving, caring parents. God bless you, Walt. You are whole again and resting peacefully in the arms of the Savior, and continued prayers for your family during this tough time.
MJ, Josh, and a few other friends carved pumpkins tonight. Here's a pic of MJ's creation...
The varsity vb team will travel to Chapin tomorrow afternoon for their first (and hopefully not last) playoff game. Let's go Lady Dawgs....continue to make us PROUD!!