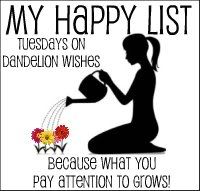 MY HAPPY LIST...
I'm happy because most of my students have gone on a field trip today to Florence. They are touring a hotel and restaurant and will then have lunch. It's really nice to have a "day off" while still at school.
I'm happy that the girls and I made the decision not to play softball in Spartanburg on the weekend of Oct. 22-23. That is a big commitment lifted off of my shoulders. We all need a little time at home.
I'm happy for Charles because he shot his first deer

of the season.....I'm definitely NOT HAPPY for the poor, innocent deer though. :(
I'm semi-happy with the results of my blog make-over

....but who knows....more changes may be a-coming!
I'm happy that my dear niece posted this picture on her blog....seeing it brought back many happy memories!
I'm happy because I'm making a big pot of homemade vegetable soup

when I get home from school today! I've been wanting some thick, hot soup, and the rainy weather today calls for just that!
I'm happy that I decided to link up

and blog about what I'm happy about today! It's refreshing and rewarding to reflect on the small things in my life that make me

HAPPY!