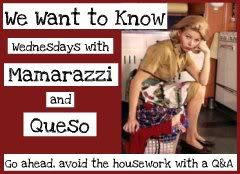 1. What is the best advice someone has ever given you?
The best pieces of advice given to me came from my mama....she molded and shaped me into who I am today. She mostly imparted old sayings, and her delivery was always right on time....thanks Mama! I miss you so much!

2. What is your greatest accomplishment?
My greatest accomplishments are my three healthy, well-rounded, independent children, and my Ed.S. degree in Special Education.
3. Who do you admire?
I admire many people, especially my husband, my siblings, and my parents.
4. If you could change one thing about yourself what would it be?
I would change my weight....wish it was easy, but it's definitely not....
5. How do you want to be remembered?
I'd like to be remembered as someone who made a difference in the lives of my family and my students.