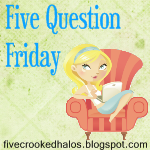 FIVE QUESTION FRIDAY
1. Did you make any fun purchases this week? That would be a big, fat NO! School is just starting back and my money is tight....
2. If you could go to any musical concert, what would it be? I'd love to take my husband to a Jimmy Buffet concert....his enjoyment would be a thrill for me!!
3.
What is your least
fav
/ most
fav
house chore? Like Mama M, I have no fav household chore. I detest them all! I especially dislike cleaning the bathrooms and emptying the dishwasher...but thank goodness I have a dishwasher to empty, right? I guess my "fav" would be vacuuming....but it's a slim favorite! :)
4. Would you prefer new appliances or clothes? I'd love to have new clothes, but I'd also love to have a new double oven.
5. Miracle Whip or Mayo? DUKES mayo...ALL THE WAY! No Miracle Whip for me and my fam!