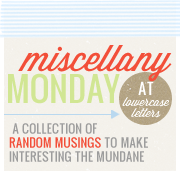 [one]
Sorry y'all....once again I'm a day late....
I know it's Tuesday and not Monday....
but, here we go with Miscellany Monday.
[two]
We had a wonderful time yesterday at the Davis family gathering. All five of us siblings were there and also quite a few nieces, nephews, and cousins. I cannot wait to see Chandler, Larry, and Frank again on Wednesday when we go to Chapel Hill to see our half-sister Nancy and our dear Aunt Mary.
[three]
MJ and I finally got the Christmas decorations down today. Charles helped get the boxes, bags, etc. into the attic. Thank goodness this is finished for this holiday season! It was fun while it lasted.
[four]
Lawren was asked to move up to the varsity basketball team, but she had rather stay on the JV team. I cannot say I blame her for her decision. She said that she'd rather play JV than sit the bench on varsity.....smart girl....
[five]
A group L and MJ's friends and I went to Taki last night for Japanese....YUM!! I love the rice and veggies. Of course I love the company of teenagers too! We had so much fun! Thanks for allowing me to make memories with y'all Lawren, MJ, Josh, Ariel, and Matt! I love you all!
Happy Monday...err, Tuesday everybody!!