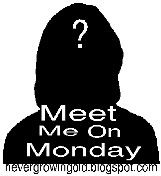 Questions:

1. Do you have any New Year's resolutions?
Yes, I made three....1.) lose more weight; 2.) unclutter and dejunk my house; 3.) improve my prayer life
2. What food item are you craving right now?
Japanese food....rice and vegetables, no meat!
3. When is your birthday?
November 3
4. What were you doing an hour ago?
Sitting on the loveseat watching a houseful of kids playing the Wii
5. Last thing you cooked? Yesterday I cooked several soups and broccoli cornbread for the Davis family gathering