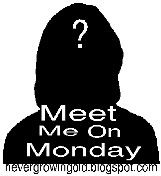 Questions:
1. What do you put on your hot dog?
I'm not much of a hot dog fan, but when I do
eat
them, I like mayonaise and chili.
2. Do you play Sudoku?
Sometimes....not very often though....
3. What is your favorite vegetable?

I love all vegetables....peas, beans, eggplant, spinach, brocolli, cauliflower, etc.!!
4. Do you color your hair?
No....my hair is the color God made it....I call it "blonde," but others call it the "G" word!!
5. What is your favorite brand of clothing?
No particular brand...just whatever fits and I like.