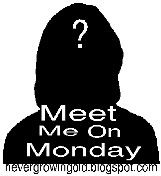 Questions:

1. Do you like your ice cream in a dish, waffle cone, pretzel cone, sugar cone or cake cone? I actually prefer my ice cream in a bowl....but if it's in a cone, I like waffle cones.

2. Do you read the newspaper daily? No, our small town's newspaper comes out once a week, and that's about the only newspaper I read.

3. Marinara or meat sauce? I don't eat beef or pork, so I enjoy marinara sauce. If I cook spaghetti sauce for the family, I usualy put meatballs in it so I can pick them out of my serving.

4. Last time you cried? Silly me....I cried on Friday because I was afraid there might be ice on the road, and I needed to drive around the block to take L and MJ to a friend's house....I have an irrational fear of snow and ice since wrecking my car several years ago.

5. What word/phrase do you find really annoying? I do not like to hear profane language. I also find improper grammar annoying...