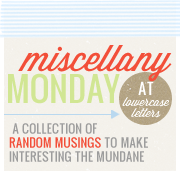 I am linking up again this week with
Carissa
at lowercase letters
for this week's edition of
It is so cold here! When I went out to go to school this morning, the temp was 20 degrees. The high for today is forcasted to be in the mid-40's, and stay in that vicinity all week....BRRRR!
I had my TAP observation this morning in 2nd grade ELA. We got into our groups and I introduced idioms....what a major disaster! Oh well, it's over and I'm relieved....wish I could --
Cannot wait for the TAP pay-out on Dec. 16th....pay-out from the 2009-10 school year! Nothing like delayed reward and gratification, huh?
We've still done no decorating for Christmas. I really don't know when I'll get in the mood enough to do it either... :( ...hopefully soon...
Josh, self-proclaimed #1 "son", was at our house all weekend. I'm so happy that he is hanging out with us again. He is so fun and animated...I just love him!
Did I mention it is COLD??
I had a missed call on the answering machine yesterday saying that the Force was interested in Lawren and MJ. I'm so excited, but have yet to mention it to them as we were at try-outs for another team, the Dixie Diamondbacks, when the call came in. I feel like the coach of the Diamondbacks will want them too, so I'll have to do a little research on the two teams before getting their preference and opinion. I'm very proud of them...they are both so athletic and work super hard in every sport they play!
I hope all of you have had a marvelous Monday....