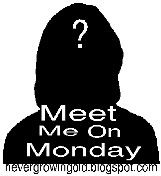 Questions:
1. What is your favorite kind of cheese? I love sharp cheddar best of all!
2. What size is your bed? We have a king-size bed...and we really needed it when the kids were little....sometimes there were five of us in there at one time!
3. What is your most overused phrase? "Umm..whatever.."
4. Green or purple grapes? Green please...
5. Shower, morning or night? Shower in the morning, for sure....sometimes at night too though...