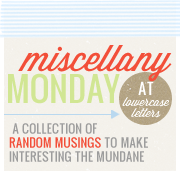 It has been quite a while since I last
M I S C E L L A N Y M O N D A Y.
We'll see how it goes....
It's day five of Lawren and Mary Jo's three-week adventure in California. They miss home, and I miss them, but this is a trip of a lifetime for two 15-year-olds!
I'm not a Gamecock fan, but I hope that they can pull out a win in tonight's game.
I have so many things on my to-do list (not really a list because I haven't written anything down) that I want to accomplish over this summer break. I worked a little in the laundry room last week but still have lots more to go in there. It was a wreck! I'd like to paint the kitchen cabinets, my bedroom, the hallway, and maybe other rooms too. I guess I'll work on all of these projects a little at a time.
Work continues on the exterior of the house and the roof. It's looking so good! Pictures will be posted when construction is completed.
Florida just made two throwing errors and USC scored a run in the 11th inning
to score a run. It's 2 - 1.....Go Cocks!
Charles is an only child while the girls are away, and he's not even taking advantage of it. He gets up early, goes to work at the CCC, and comes home late, showers and goes to bed. I hardly ever see him. I guess he's growing up and doesn't have much time for his old mama....
The weather here is so hot during the day. The high today was 99 degrees but the heat index was a lot higher....typical SC summer. I'm glad I like hot weather.
Go by Carissa's page and link up....before it's Tuesday.... :)