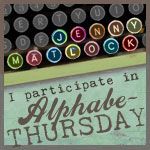 ALPHABE-THURSDAY...
This week's letter is F...
Freestyle - I loved my car....a 2006 Ford Freestyle. It is by far the nicest car I've ever had! Chuck ordered it from Meggs Ford, so it is a custom-made car just for me. It was a good one, and we drove it for many years before we had to finally let it go...still sad...but I also love my new car too, a Mercury Mariner...
fingernails - Anyone who knows me knows that I was a nail-biter. I bit my fingernails from the time I had teeth up until about two years ago, and for some unknown reason, I just stopped. My nails are not beautiful, or long, or smooth, or strong, or perfect, but at least I can say that I'm not a nail-biter anymore! Hooray for me!!
firefighters - I live with two brave, loyal firefighters...Chuck and Charles. They are both on the Bennettsville and Wallace Fire Departments. I'm very proud of them and their work in the community. I cannot imagine what it would be like to walk into a burning building, and don't ever want to experience it, but thank GOD that there are those men and women who are willing to risk their lives daily to help others.
Facebook - What can I say? I'm addicted. I peruse the wall to see what people are talking about and usually find out something new each day. I love to look at the new pictures and the funny status updates that are posted. I have played the FB games like Farmville, Cafe World, etc., but really don't any more. I just suddenly lost interest in them. I think that Facebook is a wonderful tool that brings people closer together and makes communication and interactions more convenient, even when people are separated by distance.