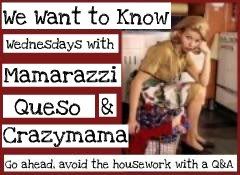 Go link up with
Queso
and
Crazymama
for
WE WANT TO KNOW WEDNESDAYS!

1. What is the worst job you have ever had? The absolute worst job I ever had was one summer during college when I worked in a factory. I was on a production line, and it was the most BORING work EVER!!! That summer taught me a lot about what I wanted in life and what I didn't want for my life.

2. Have you ever been fired? No, never fired, but I did quit once...

3. What would your dream job be? I have my dream job! I teach high school special education in a self-contained class and I love it!

4. What did you want to be when you "grew up"? I always wanted to be a teacher, and in about 3rd grade, I decided that special education was my area...

5. How old were you when you got your first job? I was in 6th grade, probably 12, when I started babysitting (for 50 cents an hour!) for my girl scout leader's young son....and I stayed on as their family's steady hire until I graduated from high school.