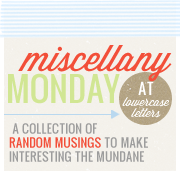 The sun is shining and the temperatures are rising! It's a beautiful day and I hope everyone is having a good one so far!!
Here are a few of my random thoughts for today....link up with
Carissa
and join us....
[one]
Our weekly calendar is fully-scheduled with high school sporting events...here's what's in store for the family...
Monday: Varsity Softball vs. Purnell-Sweat @ 6:00
Tuesday: Varsity Golf @ Darlington - 4:30
JV and Varsity Softball @ Lakewood (Sumter) @ 5:00 and 7:00
Thursday: Varsity Golf @ Hartsville - 4:30
Friday: JV and Varsity Softball vs. Hartsville @ 5:00 and 7:00
Saturday: Varsity Golf @ Cheraw Invitational Tournament - 8:00 AM
Any other free afternoon will consist of practices for the above named sports!!! Whew----
[two]
The MCHS Relay for Life team is "Fundraising Through the Alphabet," and my families' letter is Q! So I've been busy working on RFL t-shirt quilts that the team can raffle off to raise money. Here is the quilt top that I got stitched together last night.
One down, two or three more to go....and all for a good cause!
[three]
Chuck has finally decided to join the family on Facebook! He has been curious about the site for a while, asking questions about what I've seen recently on so-and-so's page. Well last night, I finally talked him into signing up and he is hooked! He was up until after midnight checking out everyones postings...
[four]
It is finally spring! Our community is so beautiful with all of the trees and flowers blooming. I love this time of year, pollen and all!
[five]
Gas prices are ridiculous! I filled up my car last week and it cost $77.00. Chuck partially filled it on Friday before we went to Sumter for another $50.00, and it is sitting on empty again! Gas around here sells for $3.44 per gallon, but according to the local news, prices are getting ready to rise again...